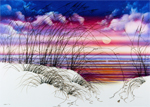 LBM 001 July 4, 2007  Artist's Insights

SEA OATS PASSION  by Hal Stowers ©1990
Sea Oats continue to be a passion of mine – poetic motion, dancing in the slightest breeze – curly tendrils delicately sculpting their sandy base – sand dune builders – all in an ocean place – silhouetted against the always phenomenally beautiful Gulf of Mexico sunset! My inspiration for "Sea Oats Passion" was found just offshore from my studio on our pristine barrier islands that I see floating in the sea… HAL
LBM 002 August 13, 2007
Artist's Insights

Hal creating "Sky Mountains" monotype image at Topaz Editions, Tampa, Florida, Photo by B.J. Stowers
©
1987
Some of my favorite creative moments were during our monotype sessions at Topaz… with reggae, rock, blues or soul in the background… continuously immersed in a completely aesthetic world for 12 or more hours at a time with no distractions… The sessions were high energy, exciting, innovative & fun!  
HAL
---
Hal and I would pack his favorite CD's and lunch for us and dear friend, Master Printer Julio Juristo – and head for Julio's studio, Topaz Editions in Tampa.  We also brought with us our years of every day LIFE BLENDING Experiences – to sustain these long sessions of CREATIVE FLOW. The experience was always the ultimate! Here at Topaz, Hal is creating a monotype image with oil base ink on the Master Plate.  
BJ
LBM 003 September 6, 2007   Artist's Insights

Hal contemplates a blank canvas – psyching up to begin his exotic Bahamas Series, Photo by B.J. Stowers © 1990
There's nothing like contemplating my first brush stroke on a blank surface! Talk about getting my creative juices flowing… then, it's time to hop up, turn the music on, smile and face that blank surface one on one – nothing like it!  HAL

---
My favorite photos capture Hal absorbed in creative moments, unaware that I have photographed him. After many adventures in the Bahamas, he is psyching up to paint the first of his Bahamian images in our newly completed downstairs painting studio. We had just returned from the Exumas. He was biting at the bit, contemplating the blank canvas & getting ready to begin this exotic series. Spring 1990, The Setting: Our Dockside Studio, Point Sun Moon & Sea, Happy Bayou.
Originally Hal's painting studio was on the upper level of our elevated flood plain home. In 1990 we filled in this dockside space on the lower level next to my "publishing studio" because he preferred painting downstairs closer to me. Since we like working together, it's essential that we not interrupt, but contribute to, each other's Creative Flow. Seeking LIFE ENHANCING EXPERIENCES on a daily basis helps to keep our channels open for Enhanced Creative Flow.   
BJ
LBM 004 September 27, 2007   Artist's Insights

Hal enjoying one of his favorite places to UnFold… ,
Photo by B.J. Stowers © 1990
As an artist, every day, I need to stimulate, open up, and expand all my sensitivities. I need fuel, clarity and understanding in order to grasp the essence of a subject and express it in a heart felt, passionate way.   HAL

---
One of Hal's favorite places to UnFold is Three Rooker Bar, just offshore from our studio. To express the essence of this Life Enhancing Experience, it seemed natural to use the magic of Photoshop to combine my photos. The first, captured in the late 1970's, is Hal on a shimmering summer morning preparing to throw his bait net, with our Aquasport 22+2, MANGROVE MOMMA II, anchored off the beach. The second is of sand dollars and seashells found at Three Rooker Bar, and Hibiscus flowers from our seaside garden – gathered to be placed on the dinner table – a daily tradition we learned from the beautiful people of Harbour Island, North Eleuthera – Bahamas, circa 1990.   
BJ
LBM 005 October 15, 2007   Artist's Insights

VIEW FROM MY WINDOW  by Hal Stowers © 1986
I have a deep passion to grasp the essence of Pristine Moments and take them back to my studio. As I move further into a painting I begin to relive those experiences and their essence begins to permeate the image. With music playing and rhythm flowing through my body, it is at this moment that my Creative Flow is at its pinnacle. HAL

---
This "Pristine Moment" Message was launched October 15, 2007, to commemorate the 36th Anniversary of Hal's First Solo Exhibit in Clearwater, Florida, in 1971 – entitled "Soliloquies to Disappearing Fragilities."   
BJ
LBM 006 November 14, 2007   Artist's Insights

Exploring the exotic Exumas with friends. Hal on board WHISPER, 40' Passport, February 1991, Photo by B.J. Stowers © 2004
When preparing to express an environment in a work of art, I like to spend time getting to know the Setting on many levels – seeking the essence of the subject – including the creatures which make it their habitat. Many times this involves sharing notes, becoming friends & celebrating sunsets with the locals! HAL

---
I shot this photo of "Hal on the bow" while exploring the exotic Exumas with friends. The image has grown to represent the Life Enhancing Experience we refer to as "Seek the Setting" that is an important aspect of LIFE BLENDING – whether one travels far away or is LIFE BLENDING right at home!
          This "Seek the Setting" Message was launched November 14, 2007, to commemorate the especially beautiful, stimulating and energizing moments Hal and I shared this morning exploring an extreme low tide along the beach and sandbars of a favorite barrier island near our home/studio, Point Sun Moon and Sea at Happy Bayou.
BJ
LBM 007 January 25, 2008   Artist's Insights

Amongst the old age mangrove forest, Hal contemplates the vast horizon. Cayo Costa Island, near Boca Grande Pass. Spring 1995.
Photo by B.J. Stowers © 2004
I felt there was something most sacred about this Pristine Moment – my being merely a Guest amongst this old age mangrove forest – what it must know – so upright and tenured yet fragile as Life itself… HAL
---
Found at the END OF THE TUNNEL! Our cruising buddies had just taken us on an incredibly delightful journey, aboard a small craft – a tight canopied tunnel winding through a mangrove forest. Finding the hidden entry to this channel to an island paradise on the Gulf of Mexico had seemed almost impossible. The way was filled with both obstacles and beautiful breathtaking moments. At the end, when I saw Hal walking on the lovely beach, amongst the old age mangrove, gazing at the vast horizon with the golden burnout of the great sun, I felt that the image captured much about Life, its Basic Ingredients, and the future including beyond this Earth and time. Hal later created a work entitled "THE LOVE TUNNEL" that expresses a part of this journey. We have been told that in 2004, a hurricane greatly altered this natural wonder – and so we share what we were able to capture in this photo and Hal's art.
BJ
LBM 008 March 5, 2008   Artist's Insights

View from our bedroom window – Winter 1992.
Photo by B.J. Stowers © 2004
LIFE BLENDING® and the LIFE ENHANCING EXPERIENCES shared in our Coffee Table Book evolved over decades – while learning to survive and thrive as environmental artists/authors. It hasn't been easy – but it has been rewarding and, at times, "dreamlike" – we feel very blessed. At this juncture in our lives, it is our belief that we are meant to answer questions we have been asked again and again about the creative process, and to share information discovered together that might enhance one's life on earth. Hal & I packed as much into our book as possible, attempting to utilize every means that medium offers. We sat side by side and "painted" the pages with images and text – hoping to pass on to those "seeking" – The Art of LIFE BLENDING – a GIFT meant to be shared!
BJ & HAL