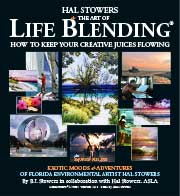 LIFE BLENDING Coffee Table Book
HAL STOWERS &
THE ART OF
LIFE BLENDING ®
HOW TO KEEP YOUR CREATIVE JUICES FLOWING
by B.J. Stowers in collaboration with Hal Stowers, ASLA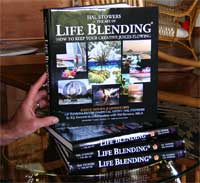 ---
"My continuing concern is for both the fragility of our
natural environment and the human spirit.
I would like
my work to serve as an uplifting buoy.
We need more focus on nature – its balance, mystique
and beauty – and that in life which is positive, exciting,
joyful and kind."
HAL STOWERS
From the Major Retrospective One-person Exhibition
entitled
THE GULF TO THE CARIBBEAN
The Capitol, 22nd Floor Gallery
State of Florida Tallahassee, Florida
January through April, 1993
---
We feel it is now time to reach out – to encourage
"collaboration" – a joining together of all
the arts, disciplines… individuals, corporations, countries…
with focus on
caring for our global environment.
HAL STOWERS
From the Solo Exhibition entitled
HAL STOWERS WORLD ENVIRONMENTAL ART
CENTER STAGE
Tampa Bay Performing Arts Center Tampa, Florida 1990